Support Cascadia Clusters
Here are some examples of what your donations can do:
Each tiny home is built on top of a platform. It keeps rodents out with metal hardware cloth while providing crucial R-21 insulation under the floor. Perhaps most importantly, it provides a standardized space to build different house models or attach donated houses. A $1,000 donation builds a platform.
Tiny Home Platform $1,000
Each house is powered by a solar power system called a JuiceBox. Residents use this tool to keep their living space warm, to provide light, and to charge electronic devices. To assemble the JuiceBox and install it along with lights and solar panels we would appreciate a donation of $1,800.
A tiny house can't be a tiny home without a roof. A $2,500 donation covers labor and materials to Install a roof along with necessary flashing.
A $4,380 donation outfits 6 tiny homes with doors and windows.
You can sponsor our labor costs to build a home. A $6,400 gift supports the work of a supervisor and two trainees for 20 days to build one house.
Please donate $12,000 to support a trainee through our entire 6 month training program. An additional $2,000 buys all of their tools and work clothes.
Another $2,000 covers their tools
An $18,000 gift builds a tiny home – labor and materials. We would happily thank you with a hand made plaque honoring a family member. This would also give you naming rights for the house itself.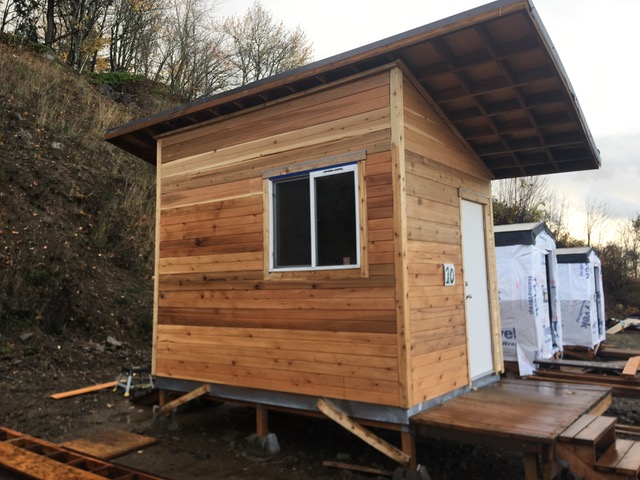 We gladly accept donations via check to:
Cascadia Clusters

c/o Andrew Olshin, Executive Director

3728 NW Thurman St.

Portland, OR 97210
You can also donate with a credit card through PayPal:
Over the summer of 2018 we had an extraordinary amount of volunteers assist with the Agape Village Build. Many of our volunteer groups were religious organizations and youth groups including pacific northwest based Rose City Park Presbyterian, First Unitarian, and the Jewish Federation of Greater Portland. Also Park Plaza Church of Christ from Oklahoma! We are currently accepting volunteers through the winter. Come out to Agape Village between 9 and 3 on any Friday to help. For large groups or any questions get in touch with us: david.cascadiaclusters@gmail.com